Mobile Notary Public

Loan Signing, Apostille, Spanish translations

Sonoma, Marin, Napa, Solano, Lake, Mendocino, San Francisco, Sacramento, California

GoDaddy.com $1.99 Kick-off Special
Spanish Mobile Notary Public.

By Appointment at the

Sergio Musetti Italian/Spanish



Real Estate Lender Networks

Note:

I am a Notary Public, bound by the laws of the State of California. The Notary Public/Signing Agent is not a legal representative of either the borrower or the lender and therefore cannot and will not render any legal advice, nor give any opinion of the loan or its terms during the course of the loan signing.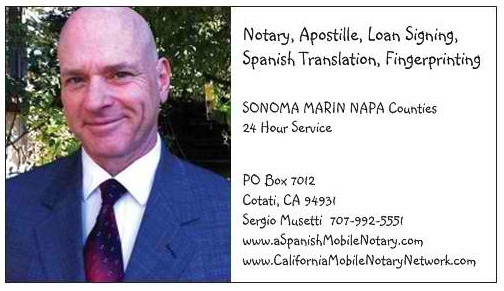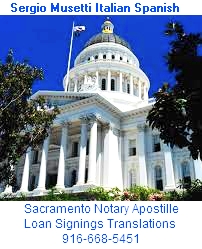 We process your documents the same day

Apostille service, legalization, authentication,

notary service, Sacramento Secretary of State, US Department of State, embassy legalization. Arden Arcade, Citrus Heights, Carmichael, Folsom, Roseville, Midtown, Dixon, Davis, Vacaville, Fairfield.   Spanish English translation. Servicio de Apostilla, legalizacion de documentos, certificado de nacimiento, defuncion, matrimonio, cartas poder, divorcio, diplomas, calificaciones, corporaciones. Que es una
Apostilla
? Un documento legalizado por un pais y aceptado en otro pais miembro de La Haya.