California Mobile Notary Network
by Sergio Musetti on 02/01/11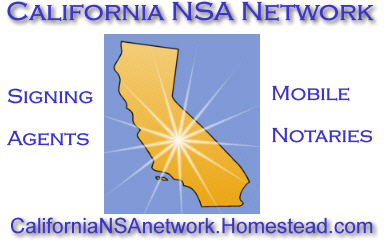 California Mobile Notary Network
Sergio Musetti, trilingual certified Signing Agent,
mobile Notary Public Tel 707-992-5551
www.CaliforniaNSANetwork.com
We are Mobile Notary Signing Agents that cover the state of California. Our notaries travel to
Alameda County, Butte County, Calaveras County, Contra Costa County, El Dorado County,
Lassen County, Los Angeles County, Marin County, Monterey County, Napa County, Orange
County, Placer County, Riverside County, Sacramento County, San Bernardino County, San
Diego County, San Francisco County, San Joaquin County, San Luis Obispo County, San
Mateo County, Santa Barbara County, Santa Clara County, Shasta County, Siskyou County,
Solano County, Sonoma County, Tehama County, and Trinity County. Call one of our
members today for your Loan Signings, Advance Health Care Directives, Living Trusts, Power
of Attorney, Foreign Adoptions, Medical Records and Real Estate Documents.
Find a California mobile notary by zip code
loan Signings, general notary public services, call direct to a notary in your area
Traveling notaries will help you with general, business, legal, financial, real estate, estate planning, trusts, mortgage, loan documents.
Download the
California Mobile Notary network brochure
Notary Public Books
Sergio Musetti, Italian/Spanish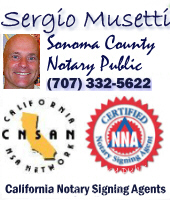 Loan signings
California Apostille service,
Spanish Translations,
Video
Sonoma County Mobile Notary
Sergio Musetti, Mobile Notary Public, Sonoma County
-
Free Marketing and Internet Resources for You
-
Free Classifieds, post your ads
-
US Notary Signing Agents
-
Google Notary Advertising Group
-
California Notary Signing Agents Network
-
Notary Signing Agents Links
-
Mobile Notary Signing Agents
-
Petaluma Notary
-
Petaluma traveling notary netlog
-
Penngrove Notary
-
Cotati Notary
-
Rohnert Park Notary
-
Santa Rosa Notary
-
Sebastopol Notary Public
-
Sonoma Notary Public Spanish Signing Agent
-
Marin County Notary Public Spanish Signing Agent
-
Novato Notary Public Signing Agent Marin County
-
Vallejo Notary Public Spanish Signing Agent
-
Spanish Notary
-
Complete Notary Public
-
Cotati Notary Yelp
Mobile Notary
-
Notary Mobile
-
Direct Matches
-
1PR Sonoma County Notary Public
-
Sonoma County Notary Public
-
1 Mobile Notary
-
Spanish Notary
-
Notary Signing Agents Sonico Group
-
Biznik Mobile Notary of Sonoma County
-
Anunciatelo
-
Best of the Web
-
Home Based Business Notary Public
24 Hour Mail Rohnert Park
-
Local.com 24 hour Sonoma County Notary Public certified signing agent
California, Sonoma County Mobile Notary Signing Agents at Yola
Search Engine Optimization Online Marketing Website submission Service
California Mobile Notary network, california mobile notaries, california mobile notary public list, california mobile notary public directory, california traveling notaries, california traveling notary network, notaries in California, santa rosa notary public, santa rosa mobile notary, santa rosa notary signing agent, santa rosa traveling notary, santa rosa mobile notary, notary signing agent,notary signing agents,california notary signing agent, california signing agent, notary signing agent businesses, california notaries, california mobile notaries,mobile notary california,california mobile signing agents, california sonoma county notary signing agent, remote signing agent notary,signing agent and notary in california, notary and signing agent in northern california, northern california signing agent, spanish signing agent, california spanish signing agent, california mobile notary and signing agent, signing agents directory, california signing agents directory, northern california signing agents directory, signing agents list, signing agents group, california signing agents list, northern california signing agents list, sonoma county signing agent, sergio musetti, cotati directory, cotati notary, cotati mobile notary, cotati traveling notary, cotati notary signing agent, cotati, notary public, cotati notaries, cotati notary list, cotati notary databaser, cotati notary public signing agents, cotati signing agents, cotati NNA notaries, cotati notary rotary, cotati 123notary, cotati national notary association, cotati fingeprinting, cotati apostille,