Mobile Notary Public

Loan Signing, Apostille, Spanish translations

Sonoma, Marin, Napa, Solano, Lake, Mendocino, San Francisco, California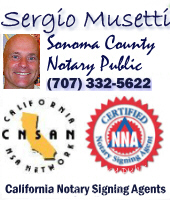 Why can you go online right now and buy any product you want but you can't do the same for tutors, handymen, dog walkers, or other local services? Thumbtack is changing that.

Thumbtack isn't like typical local search directories that simply return business listings with ratings and reviews, leaving you no better off than the paper Yellow Pages.

Instead, Thumbtack gives you the ability to vet, contact and book service professionals the moment you find them.

Safety first

At Thumbtack, we understand that hiring service professionals requires a high degree of trust. This is why we go out of our way to make sure that our community is held to the highest standards and that you have all the tools you need to feel comfortable hiring someone online.

Thumbtack helps you get the job done at the time and place you want, with someone you know you can trust.

Find

Discover what is near you. Search as easily as typing what you want

Compare

Read customer reviews. Confirm identity and vet background

Book

Schedule instantly. Pay securely. Review the work.

Need to get something done?

Try posting a request to Thumbtack. We'll personally find whatever you need in less than 24 hours. Within that time, we'll direct our service professionals to deliver what you want done.

________________________________

Are you a service professional?

Learn about the tools we offer to manage and grow your business.

Create a permanent online profile

Pick a custom web address

Get indexed by search engines

Add photos and videos

Display your credentials to customers

Verify your name, email, etc.

You can show you pass a background check

Share any professional licenses and certifications

Manage your appointments online

Get booked 24x7

Receive instant email confirmations

Simple click-and-drag interface

Get help marketing your service

Display testimonials from previous customers

Import your email contacts & solicit testimonials

Get access to other marketing tools like flyers..


Testimonials

Just wanted to leave you a note. I absolutely love your site and what you're doing. You guys are changing the game as far as business directories go. I do Internet marketing and web design and I direct all of my clients to Thumbtack. Excellent way for businesses to connect, not to mention the content on your website indexes really well. Love it.
I used to sell ads for Local.com. You guys are about 5000 light years ahead of these guys as far as creating a site that does what it's supposed to. Keep up the good work.

-Mark Schellenbach, Website Design, Web Design, & SEO

I love this service better than any other on the web

-JB, Mobile Detailing & Auto Care

This was a true find! I was amazed at the options that you get with the free service. Not only do you get to have your company in their listings, it will also give you the option to contact your customers directly asking for testimonials, give you a badge to put on your own website, tie in with your Facebook and Twitter account, will post your ad to Craigslist, and give a personal domain . It is very user friendly, not intimidating at all. Only takes

a few minutes to set up.

-Deneen, Secretarial Services

I have checked at least a dozen different types of merchant websites, and you have definitely found a unique niche. You seem to have anticipated just about every need and wrapped it up in one nice package!

-Rebecca, Going Green Limousine

Your site is awesome! I've posted on quite a few similar sites in the past and none have been so visually appealing and robust in content.

-Jason E, Household Moving

This is EXACTLY what I'm looking for!!

-David A, Photography and Design

I just posted my new ad - it was a easy and user friendly site.

-Tim H, Garage Door Repair

I love this site. I will certainly use it and tell my friends.

-Lori A, Design and Print Media

Thanks a million! The website postings are amazing with regards to how detailed your posting can be. Wow!

-Fernando G, Arborist

Clean design and easily navigatable!

-Christian L, Document Drafter

Thumbtack is great!

-Jim L, Paint and Tile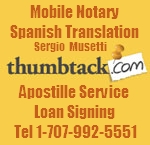 to hire local service professionals.

We're excited to be helping with life's bigger moments, like planning a wedding or remodeling a home, and with more regular jobs, like cleaning your house or getting a massage. We also help with the funnier ones – hiring body painters for San Francisco's revelrous Bay To Breakers or a Viking Opera Singer to embarrass your friend on his birthday.

Let us do the legwork for you

1. Tell us what you need

2. We'll identify verified service pros based on your specific needs

3. Available service pros will submit quotes for you to compare

4. You choose and hire the service pro that's right for you

We can get you a pro for that

With 270,000 pre-screened service professionals, we can get you the service pro you need for just about anything and within 24 hours. In fact, our customer requests team carefully reviews each request before routing it to the right service pros for you.

Tell us what you need

We'll identify verified service pros based on your specific needs. Available service pros will submit quotes for you to compare

You choose and hire the service pro that's right for you

What services can you find for me?

Business & Legal

Family

Home

Events

Lessons

Writing & Translation

Health & Beauty

Cars & Trucks

Tech & Web

We have services pros in all 50 states, so you get pros who are local to you

Our team verifies professional licenses, backgrounds, business addresses, and more

We follow up with customers to get feedback on their experience with our service pros

Thumbtack helps local service pros

find new customers.

Why join Thumbtack?

Thumbtack's community standards

Why join Thumbtack?

Thumbtack's goal is to help small, local businesses find new clients. Each month, hundreds of thousands of consumers throughout the United States come to Thumbtack looking to find local service professionals.

Joining
Thumbtack
gives you access to introductions to new clients as well as a page where you can describe your business, show photos and reviews. Signing up and maintaining your page on Thumbtack is free. Thumbtack charges a fee for introductions to new clients.
Thumbtack customers have become long-term recurring clients for many of our service professionals and have introduced those service pros to countless colleagues and friends. For some of our service professionals, Thumbtack is the primary way they acquire new customers.