Sergio Musetti Sonoma County Mobile Notary

Certified California Loan Signing Agent

Sergio Musetti    Cotati, Old Redwood Hwy, Sonoma County, California

Sonoma Cities:

Annapolis, Bodega, Bodega Bay, Boyes Hot Springs, Camp Meeker, Cazadero, Cloverdale, Cotati, Duncans Mills, El Verano, Eldridge, Forestville, Freestone, Fulton, Geyserville, Glen Ellen, Graton, Gualala, Guerneville, Healdsburg, Jenner, Kenwood, Monte Rio, Occidental, Penngrove, Petaluma, Rio Nido, Rohnert Park, Santa Rosa, Sebastopol, Sheridan, Sonoma, Stewarts Point, The Sea Ranch, Valley Ford, Villa Grande, Vineburg, Windsor,

Marin County,Belvedere, Bolina,s Corte Madera, Dillon Beach, Fairfax, Forest Knolls, Greenbrae, Ignacio, Inverness, Kentfield, Lagunitas, Larkspur, Marshall, Mill Valley, Muir Beach, Nicasio, Novato, Olema, Point Reyes Station, Ross, San Anselmo, San Geronimo, San Quentin, San Rafael, Sausalito, Stinson Beach, Terra Linda, Tiburon, Tomales, Woodacre, marin county notary, marin county signing agent, marin signing agent service, california signing agent, california signing agent network, california notary signing agent, california signing agent service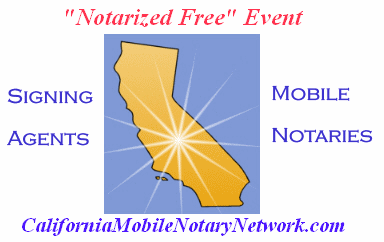 FOR IMMEDIATE RELEASE

FREE NOTARIZATIONS FOR THE PUBLIC

Cotati, California - July 12, 2011

A "Notarized Free" event will be held on Tuesday, July 12th from 10 A.M. to 12 P.M. At Redwood Cafe 8240 Old Redwood Highway, Cotati, CA 94931.

Sergio Musetti, a member of the California Mobile Notary Network will offer his services to the public at no charge as a community service at the Redwood Café, located at 8240 Old Redwood Highway, Cotati, California.   Mr. Musetti will ask signers for proper identification (a government-issued photo ID), and then affix his official seal at no charge. No appointment is required.

A notary public serves as an impartial witness to the signing of important legal documents such as real property deeds, powers of attorney, healthcare directives, parental permission letters, traffic school tests and documents requiring an oath. Regulated by the Secretary of State of California, a notary may not create the document, but will certify the identity of the document signer and administer an oath when needed. A valid photo ID is required to insure the integrity of the legal document.

"We notaries wanted to raise the profile of notaries everywhere, and to remind the public of the important role we play in commerce," said Mr. Musetti.  "In this tough economy, we wanted to give something back to our communities by providing our services for free." 

As a member of the California Mobile Notary Network Sergio Musetti travels to hospitals, businesses, private homes and even penal institutions to meet clients where and when his services are needed. All Network members are bonded, tested, and background-screened.

The California Mobile Notary Network is an organization comprised of committed, professional notaries public who are dedicated to providing exceptional, expert and timely signing services.

Contact information:

Sergio Musetti, Spanish/Italian Certified Notary and Signing Agent, Sonoma County

California Apostille, Loan Signing, Spanish English Translations, fingerprinting

(707) 332-5622

Spanishvoice@yahoo.com

http://aSpanishMobileNotary.com

http://www.CaliforniaMobileNotaryNetwork.com

###